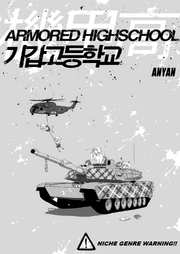 Armored Highschool is a series of comics created by anyan . It features anthropomorphized modern military vehices living daily lives in high school.
Armored is a spin off of Flight Highschool, created after the initial run of Flight 4komas. It is currently being translated independently by WeaponsCrate over on the NA World of Tanks forums.
The Comics
Edit
Korean comics are read left to right just like English.
These translations are subject to change. If there are any or updates, they'll be noted here.Imgur links added.
Update: Batch 4 uploaded, caught up to Anyan -Kirbyeggs
Character reference, plus a couple random samples of the comic for those just glancing through the page.
Ad blocker interference detected!
Wikia is a free-to-use site that makes money from advertising. We have a modified experience for viewers using ad blockers

Wikia is not accessible if you've made further modifications. Remove the custom ad blocker rule(s) and the page will load as expected.