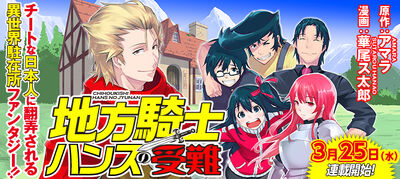 Sick of the trickery in the royal court, former knight captain Hans now serves at a remote station in the countryside. But his peaceful and idyllic days end when some Japanese people with superhuman abilities suddenly show up.
Updates monthly on the 4th Wednesday.
Typesetting, Translations etc.
Edit
Ad blocker interference detected!
Wikia is a free-to-use site that makes money from advertising. We have a modified experience for viewers using ad blockers

Wikia is not accessible if you've made further modifications. Remove the custom ad blocker rule(s) and the page will load as expected.