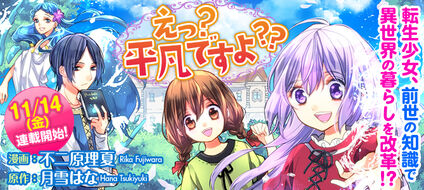 Synopsis:
Yukari was a high school student when she died in a traffic accident, but when she woke up, she had been reincarnated as the daughter of a count in another world! But strangely, what was waiting for her was a life of poverty, so she decided to make use of the knowledge from her previous life.
Typesetting, translations etc.
Edit
Project website (Google Drive) c/o Re:Translations (Google Drive)
Ad blocker interference detected!
Wikia is a free-to-use site that makes money from advertising. We have a modified experience for viewers using ad blockers

Wikia is not accessible if you've made further modifications. Remove the custom ad blocker rule(s) and the page will load as expected.