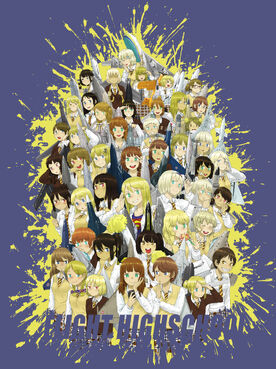 Flight Highschool is a series of comics created by anyan . It features anthropomorphized modern military aircraft living daily lives in high school.
After a couple corrections from the artist, we now have a complete identification chart.
Anyan's gone and made a color reference chart for himself. It's too good to pass up though, so it's been translated into English. It's shows all 79 characters that have appeared as of #24. Check out the full resolution version here.
The Comics
Edit
Currently these are being translated with the translations and feedback from anyan , the artist himself. Download links to the translated comics are below, but for quick online viewing you can check the Imgur album .
Korean comics are read left to right just like English.
Update 11/26/2016: I swear I am still alive-Kirbyeggs
Korean:
Below are the pixiv/naver links to each of the comics in their original language.

Chinese:
If you somehow found your way here but would prefer Chinese translations, Xusphere maintains an equivalent to this wiki page , along with up to date Chinese versions of everything that's been released .
Character reference, plus a couple random samples of the comic for those just glancing through the page.
Ad blocker interference detected!
Wikia is a free-to-use site that makes money from advertising. We have a modified experience for viewers using ad blockers

Wikia is not accessible if you've made further modifications. Remove the custom ad blocker rule(s) and the page will load as expected.