Gate - Thus the JSDF Fought There Scanlation Activity
Comments

2k
108pages on
this wiki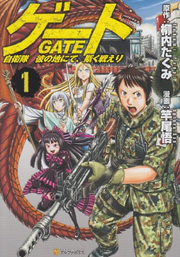 Work on all Gate- Thus the JSDF Fought There materials goes here.
This page is for assisting /ak/ translators as they work by centralizing completed parts of the scanlation process. Material doesn't always go through the complete scanlation process in one thread and schedules don't always sync, so it may sometimes be convenient to have somewhere to leave incomplete portions of the process.
Release schedule of raws: Monthly - normally on the 30th of each month (raws can be grabbed manually ~2-3 days prior)Edit
How it works
Edit
Finalize your piece of work (examine grammar and spelling for translation, clean quality for cleaned scans, etc.) to ensure your work is quality
Zip it up, making sure to name the file descriptively, and post it here
Check here for other's work so you can continue the next steps
Got a finished chapter? Great! Please email it to the archive manager so it can be added to the main /ak/ Mediafire.
Gate- Thus the JSDF Fought There
Edit
raws: c45 will be out on 03.30.Edit
cleaned scans
Edit
translations
Edit
partial typesetting
Edit
partial typesetting 4-koma
Tankoubon Releases
Edit
Gate Vol 5
Raw: 100%
Cleaning : 100%
Typesetting: 26/210
Redraws: 26/210
QC: 0/210
Chapter 32 - The Heart of Empire  - 帝国の心臓
Chapter 33 - Kuribayashi's Wild Dance - 栗林乱舞
Chapter 34 - Trembling Day - 震える日
Chapter 35 - Wise Prince and Foolish Prince - 賢愚の皇子達
Chapter 36 - The Return of Noriko - 紀子の帰還
Chapter 37 - Tuka's Eye - テユカの瞳
Gate! Cultural Exchange Chapter - 文化交流編 *Machine TL.
Please point out typos and grammar mistakes in this release.