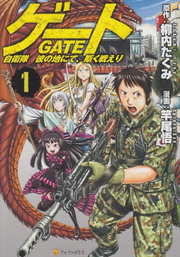 Alphapolis isn't showing the Gate chapters anymore. Why? What do we do?
Work on all Gate- Thus the JSDF Fought There materials goes here.
This page is for assisting /ak/ translators as they work by centralizing completed parts of the scanlation process. Material doesn't always go through the complete scanlation process in one thread and schedules don't always sync, so it may sometimes be convenient to have somewhere to leave incomplete portions of the process.
All work is now on Uxtef's Wordpress page, as /ak/ does not officially work on this series anymore! Link for the page: https://uxteftl.wordpress.com/
We are fine with the chapters being hosted and linked here, but we will not troubleshoot the series or fix any broken links! Thank you for your understanding.
-/ak/ Staff
How it works
Edit
Finalize your piece of work (examine grammar and spelling for translation, clean quality for cleaned scans, etc.) to ensure your work is quality
Zip it up, making sure to name the file descriptively, and post it here
Check here for other's work so you can continue the next steps
Got a finished chapter? Great! Please email it to the archive manager so it can be added to the main /ak/ Mediafire.
Gate - Thus the JSDF Fought There
Edit
Updates monthly on the 30th give or take a day or two.
Last chapter(raw) released: 79 - Date: 10.30.2018 or 30.10.2018.
Next chapter(raw) to be released: 80 - Date: 11.30.2018 or 30.11.2018.
Cleaned Scans
Edit
Translations
Edit
Typesetted and released chapters
Edit
Tankoubon Releases
Edit
Gate Vol 1 (It will be fixed)
Raw: 100%
Cleaning: 0/240
Gate Vol 2 (It will be fixed)
Raw: 100%
Cleaning: 0/220
Raw: 100%
Cleaning: 214/214
Gate - 4koma spin-off
Edit
Web-release of the chapters (Alphapolis site)
Translations
Edit
Typesetted and released chapters
Edit
Gate - Piña's Rose Order of Knights spin-off
Edit
Web-release of the chapters (Alphapolis site)
Translations
Edit
Typesetted and released chapters
Edit