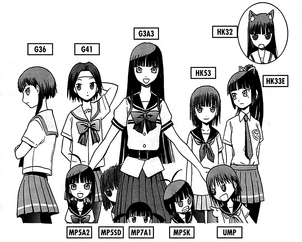 The suffering character.
Appearance
Edit
Wears a bandanna.
Personality
Edit
Wishes she can be G3. Extra Tier.
The G41 were a HK 33 rifle that were modified to take the 30 round Stanag and other NATO standard accessories in 1986.
It was the first H&K rifle "dropped" by the Bundeswehr (German Military) after three years of service. Then mostly everyone forgot about it after the G36 came out in 1997.
Performance
Edit
It has a 1:7 twist for Belgium SS109 or a 1:12 twist for American M193. Other than that it is a G3 in 5.56.
Denmark
Spain Turkey