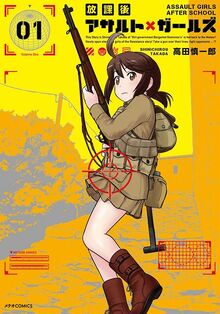 Also know as Assault Girls After School, this series is another cute girls doing cute things while operating operationally inna operation (WW2-style). Also, it's somewhat an isekai, but not? We'll see how this progresses...
Chapters
Edit
RAW
pixiv (lacks behind on chapters)
Comic-Meteor (most up-to-date with the chapters)
Swiss bought the first volume as High Quality RAWs
Cleaned
Chapter 2: (Cleaned: 37/37) (TL: 37/37)
Chapter 3: (cleaned: 29/29) many thanks to Tanuki (TL:29/29)
Chapter 4: (cleaned:0/29) (TL:0/29),
Chapter 5~7: soon(TM)
Chapter 8: N/A
Chapter 9~17: soon(TM)
typesetted and released (DD/MM/YYY)
Raws: Swiss_momo
Translation: Opper-pax
Cleaning: Tanuki & Opper-pax
Redraw: Tanuki & Opper-pax
Typeset: Tanuki & Opper-pax
Proofread: elitetwo, Lardagus and the rest of /k/
Ad blocker interference detected!
Wikia is a free-to-use site that makes money from advertising. We have a modified experience for viewers using ad blockers

Wikia is not accessible if you've made further modifications. Remove the custom ad blocker rule(s) and the page will load as expected.