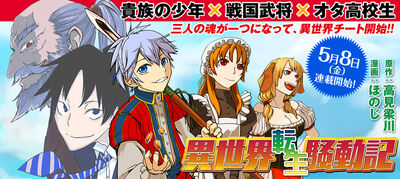 Balud Cornelius is the son of a noble of the Mauricia kingdom and inside him also dwell the souls of the niggardly warring states commander Oka Sadatoshi and animal ear otaku high schooler Oka Masaharu. With these 3 souls in a single body, he can exhibit extraordinary abilities when it comes to combat or managing the domain.
Updates monthly on the 1st Thursday.
Typesetting, Translations etc
Edit
Ad blocker interference detected!
Wikia is a free-to-use site that makes money from advertising. We have a modified experience for viewers using ad blockers

Wikia is not accessible if you've made further modifications. Remove the custom ad blocker rule(s) and the page will load as expected.