The M70 B1 is a AK variant produced by Zastava in Serbia formally Yugoslavia.
In the Manga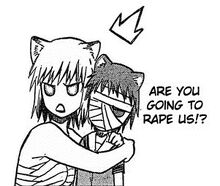 she was first seen fighting along side RPK before being injured by one of the high schoolers.
In real life the M70 rifle's are some of the most well made AK variants in the world.
Some improvements and differences over a standard AKM are...
1.5mm thick stamped receiver. (Most AKM's have only a 1mm thick receiver)
Longer thicker stock.
Flip up grenade sight/gas cut off.
Flip up low light/Night sights.
Hand guard has 3 slots instead of 2.
More ergonomic pistol grip.
Polished chromed bolt.
Thicker non chrome lined barrel.
Last round bolt hold open magazines.
Ad blocker interference detected!
Wikia is a free-to-use site that makes money from advertising. We have a modified experience for viewers using ad blockers

Wikia is not accessible if you've made further modifications. Remove the custom ad blocker rule(s) and the page will load as expected.