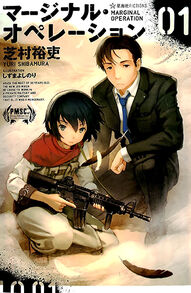 A 30 years old Japanese NEET joins a PMC in the middle east and becomes the handler of a child soldier unit.
Based on a LN of currently 4 volumes.
Hosted raw links were removed, see here for more information.
Ch. 1 TL script ver. 2 (this time for the full chapter. Script from previously translated pages is just copied over from the old script)
Translated Scripts
Edit
Vol. 2 Chapter 1 (Chapter 6)
Vol. 2 Chapter 2 (Chapter 7)
Vol. 2 Chapter 3 (Chapter 8)
Typeset Chapters
Edit
Volume 1
Volume 2
Soon...
Ad blocker interference detected!
Wikia is a free-to-use site that makes money from advertising. We have a modified experience for viewers using ad blockers

Wikia is not accessible if you've made further modifications. Remove the custom ad blocker rule(s) and the page will load as expected.