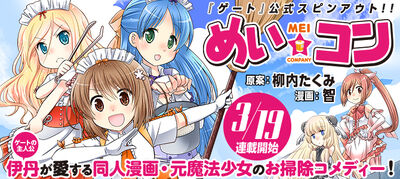 After graduating from their constant fighting, some magical girls were unable to keep up in class, got poor grades, and became NEETs. In order to help these poor former magical girls, the cleaning company "Mei Company" was founded! Will swapping their magical staffs for cleaning tools help to rehabilitate them? Gate protagonist Itami's beloved doujin manga about former magical girls cleaning up messes.
Typesetting, Translations etc.
Edit
Ad blocker interference detected!
Wikia is a free-to-use site that makes money from advertising. We have a modified experience for viewers using ad blockers

Wikia is not accessible if you've made further modifications. Remove the custom ad blocker rule(s) and the page will load as expected.