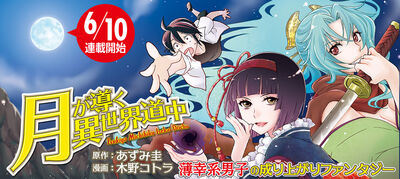 Misumi Makoto is just a normal high schooler-- at least he was until he was summoned to another world because of his parents. But the goddess of that world decided that he was ugly and threw him into the wastelands at the farthest ends of her world. Wandering the wastelands in search of human warmth, all Makoto encounters are non-human beings, even his 2 beautiful(and incredibly strong) companions are a dragon and a giant spider. Just where will Makoto's journey lead him?
Updates monthly on the 2nd Wednesday.
Light Novel Translation
Edit
https://isekailunatic.wordpress.com/tsuki-ga-michibiku-isekai-douchuu/
Typesetting, Translations, etc.
Edit
Typesetter ch5 - [BlackSylph - [2015-OCT-30]]
Typesetter ch6 - [Rozzak - [2015-NOV-21]]
Typesetter ch7 - [Uxtef and Dave - (2015-Dec-14)]
Typesetter ch8 - [Skylusion & Uxtef - {2016-Feb-13} ]
Typesetter ch9 - [Skylusion & Uxtef - {2016-Mar-15} ]