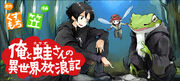 Sinopse:
Tarou was an ordinary universary student until a strange old magician summoned him to another world, upon learning that his magical power is 8 million, he uses that abnormally powerful magic to revive the old man that caused all this... In the form of a frog. Thus begin the strange adventures of a boy with ridiculous magical power and Kawazu, the former strongest magician, now revived as a frog.
Raws: Release is out on 25th monthly.
Typesetter:
Edit
Ad blocker interference detected!
Wikia is a free-to-use site that makes money from advertising. We have a modified experience for viewers using ad blockers

Wikia is not accessible if you've made further modifications. Remove the custom ad blocker rule(s) and the page will load as expected.