Synopsis: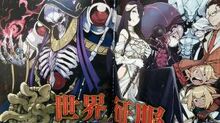 The story begins with Yggdrasil, a popular online game which is quietly shut down on its last day. Our protagonist Momonga decided to stay until the last moment in his beloved game and wait for the force logout. Unexpectedly, the server did not shut down and Momonga is stuck in his skeleton body and got transferred to another world. "The powerful Overlord" needs now to discover a new world and face the continuous challenges.
Having no parents, friends, or place in society, this ordinary man strives to take over the new world the game has become.
Light Novel
Edit
Translations
Edit
Typesetting
Edit
CH1: Link
CH2: Link
Folder: Link Chapters 3 ~ 18.5
CH18.5: Link
CH19:Link (now resized with jpg to 12Mo) and p06-07 merged , p12-13 merged , p24-25 merged
Ch20: Link (now jpg archive 16mo)
Ch21: [1]
Ch22: Link
Ch23: Link
Ch24: Link
Ch25: Link
Ad blocker interference detected!
Wikia is a free-to-use site that makes money from advertising. We have a modified experience for viewers using ad blockers

Wikia is not accessible if you've made further modifications. Remove the custom ad blocker rule(s) and the page will load as expected.