Ad blocker interference detected!
Wikia is a free-to-use site that makes money from advertising. We have a modified experience for viewers using ad blockers

Wikia is not accessible if you've made further modifications. Remove the custom ad blocker rule(s) and the page will load as expected.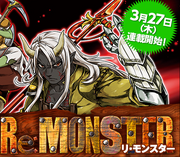 Synopsis:

Tomokui Kanata has been re-incarnated into the weakest race, goblin, and get a new name Rou, after having undergone an unfortunate death. However goblin Rou has retained his previous life's memories, gained an unusual evolution, and kept his ability to gain skills from eating his foes.

Edit
In this alternate world of survival of the fittest, events unfold. Will a goblin party become the heroes of this world, in a delightful twist from your usual scenario?  Will he become a hero of this world, or a dark overlord dominating over everyone else?
Release schedule of raws: Monthly - on each 4th Thursday of the month (raws can be grabbed manually ~2-3 days prior) Edit
Re:Monster
Edit
Next Raw Chapter coming out: October 27, 2016
Last Raw Translated: October 17, 2016
http://www.alphapolis.co.jp/manga/viewOpening/609000058/
Typesetter:
Chapter 4, joint with Fried Squid Scans
Chapter 5, joint with Fried Squid Scans
Chapter 6, joint with Fried Squid Scans
Chapter 7, joint with Fried Squid Scans
Chapter 18 (Abandoned Kitten Scans)
Chapter 19 (Abandoned Kitten Scans)
Chapter 20 (Abandoned Kitten Scans) Raw
Chapter 21 (Abandoned Kitten Scans) Raw
Chapter 22 (Abandoned Kitten Scans) Raw
Chapter 23 (Abandoned Kitten Scans) Raw
Chapter 27 () Raw
Chapter 28 () Raw
Chapter 29 () Raw
Wikia:
http://re-monster.wikia.com/wiki/Re:Monster_Wiki
Light Novel:
https://docs.google.com/document/d/1t4_7X1QuhiH9m3M8sHUlblKsHDAGpEOwymLPTyCfHH0/preview?sle=true
[Re:Translations team on Hiatus]
http://re-monster.wikia.com/wiki/Day_301-310
[72 onward by <<Pacem Community Translations>> Progress ongoing]