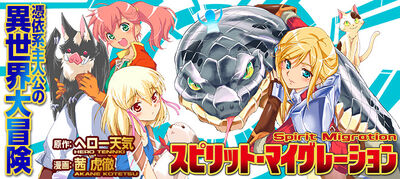 A spirit was floating in another world's dungeon, missing its memories. Eventually "he" learned to possess other creatures, and using the bodies of the beasts in the dungeon, made his way to the outside world. Dragging a young female knight, a pretty young lady, and even a beautiful mercenary into the mix, our protagonist begins his great adventure in this world!
Typesetting, Translations etc.
Edit
Light Novel
Edit
https://docs.google.com/document/d/1WtUKnitUKLOD4WN8Rc-5uEy3BDfknr3aMRgVAgsQznE/pub
Ad blocker interference detected!
Wikia is a free-to-use site that makes money from advertising. We have a modified experience for viewers using ad blockers

Wikia is not accessible if you've made further modifications. Remove the custom ad blocker rule(s) and the page will load as expected.