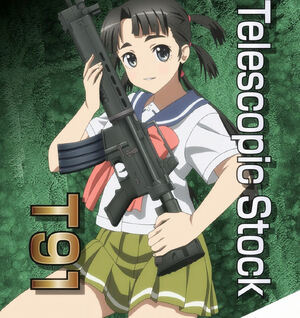 Fountain Head
In Fiction
Edit
Appearance
Edit
Often called "Fountain head" much to her displeasure by M16 because of her multiple ponytails Her trademark six-pigtail hairstyle is likely a reference to the 205th armory insignia T91's manufacturer. In the anime she uses a G-String adjustable-width panties, referring to her adjustable telescopic stock

Personality
Edit
The best friend of AUG.
Has a rather friendly and caring personality.
is in charge of finances in the student council. 
also is fond of cooking.
In Real Life
Edit
It is based on the proven T86 assault rifle incorporating features from the M16 and AR-18 rifles with more modern features.
Taiwan
Performance
Edit
Ad blocker interference detected!
Wikia is a free-to-use site that makes money from advertising. We have a modified experience for viewers using ad blockers

Wikia is not accessible if you've made further modifications. Remove the custom ad blocker rule(s) and the page will load as expected.