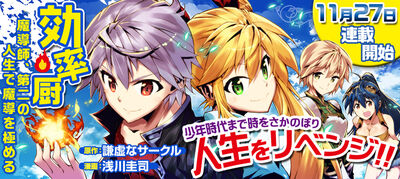 Zeff Einstein spent his whole life mastering red magic and was finally recognized for it, yet a new spell that was soon created revealed that his talent for red magic was his lowest. Bitter at the thought of all his wasted effort, he creates a spell to send his old self back in time to his younger body and together with the determined "genius" mage Milly and the handsome swordswoman Claude, he intends to master magic more efficiently this time.
Updates monthly on the 4th Friday.
Typesetting, Translation, etc.
Edit
Ad blocker interference detected!
Wikia is a free-to-use site that makes money from advertising. We have a modified experience for viewers using ad blockers

Wikia is not accessible if you've made further modifications. Remove the custom ad blocker rule(s) and the page will load as expected.