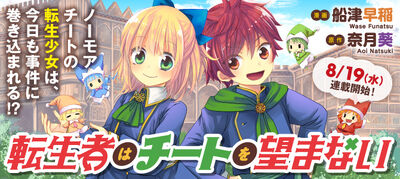 Mira peacefully resided in a magical world until a blow to the head caused her to partially remember her previous life in Japan. The protagonists in reincarnation stories always end up having to deal with trouble, which is the last thing she wants. Alas what awaited her was the selection exam for a magic academy and naturally(?) her special cheat ability was discovered then. A fantastical tale of a reincarnated girl who doesn't want any cheats.
Updates monthly on the 3rd Wednesday.
Typesetting, Translations etc.
Edit
Ad blocker interference detected!
Wikia is a free-to-use site that makes money from advertising. We have a modified experience for viewers using ad blockers

Wikia is not accessible if you've made further modifications. Remove the custom ad blocker rule(s) and the page will load as expected.