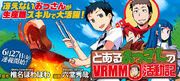 Sinopse:
Typical company employee Tanaka Daichi(38 years old, single) loves games and plays a new type of VRMMO called "One More Free Life Online" under the username "Earth". Inside this free world he chose several skills that are generally regarded as useless. Be it wasting time crafting potions, cooking up pointlessly tasty food, or hunting monsters with some absurd weapon he crafted, he simply enjoys playing the game.
Schedule: 4th Friday monthly. Next: 2015.03.27
Translations:
Edit
Typesetter:
Edit
Ad blocker interference detected!
Wikia is a free-to-use site that makes money from advertising. We have a modified experience for viewers using ad blockers

Wikia is not accessible if you've made further modifications. Remove the custom ad blocker rule(s) and the page will load as expected.