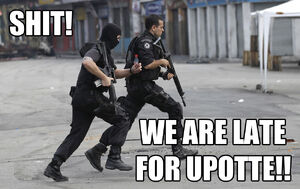 Work on all Upotte!! materials (manga, Nano, Rufuira, LN, raws, etc.) goes here.
This page is for assisting /ak/ translators as they work by centralizing completed parts of the scanlation process. Material doesn't always go through the complete scanlation process in one thread and schedules don't always sync, so it may sometimes be convenient to have somewhere to leave incomplete portions of the process.
All raw links were removed, read here for more information.
Cleaned scans
Edit
Translations
Edit
Previous releases
Edit
Chapters done by animexis. Reuploaded for convenience.
Typeset chapters
Edit
Misc Extras - Author afterword for Vols 1-2 (not translated in Animexis' release) and 3 , Vol 1 Q&A,Vol 2 Omake (Elle-chan and me), Vol 3 Omake, Various color pages and comics from the tankobon's dust jacket.
translations
Edit
Typeset chapters (nano)
Edit
Rufuira / Other Doujinshi
Edit
cleaned scans
Edit
translations
Edit
partial typesetting
Edit
cleaned scans
Edit
translations
Edit
Cover: done
Chapter 1: n/a
Chapter 2: n/a
Chapter 3: n/a
Chapter 4: n/a
Chapter 5: n/a
Afterword: done
4-koma: done, includet with raws
partial typesetting
Edit
Ad blocker interference detected!
Wikia is a free-to-use site that makes money from advertising. We have a modified experience for viewers using ad blockers

Wikia is not accessible if you've made further modifications. Remove the custom ad blocker rule(s) and the page will load as expected.