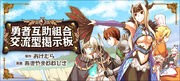 Alternative name: Hero Cooperation Union Exchange Bulletin Board / Hero Union BBS
Synopsis:
The hero union's BBS, where heroes gather, crossing many dimensions. A bulletin board made by heroes for heroes. Unfair settings, complaints about comrades, tales of failure, and discussions of secret agendas, they are all found here! Even now, new threads are being made!
A comedic chronicles about the travails of heroes.
Typesetter & Translation
Edit
Ad blocker interference detected!
Wikia is a free-to-use site that makes money from advertising. We have a modified experience for viewers using ad blockers

Wikia is not accessible if you've made further modifications. Remove the custom ad blocker rule(s) and the page will load as expected.